Auditions for Miss Himachal competition were held at Gandhi Bhawan Mandi on Thursday
Mandi August 29
DP Gupta
Auditions for Miss Himachal competition were held at Gandhi Bhawan Mandi on Thursday, being organized by Media Vision group.
The hunt for Media Vision Miss Himachal 2019, which started in the rainy season, will be completed in the winters when grand finale to select Miss Himachal 2019 would be organized at Manali during snowfall.
Eight girls were selected during the audition round on Thursday at Mandi, i.e. Pallavi, Deepali Thakur, Komal, Shweta, Bharti, Anjali and Anushka for the next round of this competition.
Earlier, Four girls were selected for this Grand Finale in first round of auditions held at Hamirpur including Priya, Nitika, Anjana and Ishita.
For selecting the contestants for the next round of competition the talents of the participants were adjudged in three stages i.e. personality, interacting capabilities and their presentations in the fields of their interests.
Telling about this contest organizing director of Media Vision Rakesh Pramar said the theme of this year's Miss Himachal competition is  'An Endeavor to Encourage Girl Child' and entry to this competition  has been kept free.
He said preliminary selection round has been conducted at Hamirpur and next round would be held at Solan on September 15 and September 28 at Dharamshala.
 DP Gupta, Pankaj Sharma and Monika Thakur were judges for selecting the contestants at Mandi.
The Author: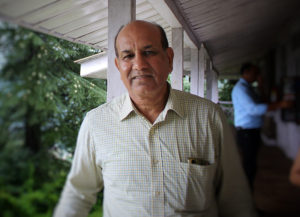 Prakash Gupta, (D P Gupta) is a known journalist of Himachal Pradesh.  He started his journalistic career as a free lancer and also worked for a Hindi Daily as Bureau chief at Mandi.